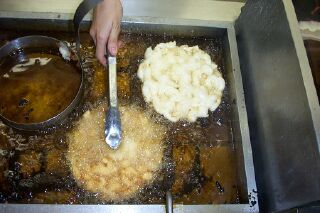 Doesn't that picture just get your arteries cloggin?
Well, that my friends is the delectable funnel cake, the king of fair desserts, and my once a year treat that I recently acquired from the Kentucky State Fair. We made a trip to the fair on Tuesday night with our friends Robbie and Dani to see Gary Allan in a "free" concert. But, we got robbed at the entrance gate for both a parking fee and a 2 fair admission tickets, so the concert wasn't truly free which seems to be the case with most things.
The highlight was seeing Kentucky's finest citizens in their natural element. There were big mommas, toothless wonders, and wanna be cowboys which should not be confused with the beer bellys, mullet men, or the saggy tattoo crew. All of whom were encircled by an ever present cloud that resembled the Marlboro Man...
I will give one tally point to Kentucky for being the originators of "that high lonesome sound" commonly called Bluegrass that Phillip and I learned more about on a documentary on the Public Access Channel last night. We did watch this show after eating dinner at about 5:50 pm at which time we concluded: documentaries + early dinners = 2 old married folk...but you couldn't find 2 folk happier to be married...